Elisabeth Borne – "Be bold, go create!"
no comments
Categories:
Tags:
Elisabeth Borne – "Be bold, go create!"
During Autonomy 2018 and in anticipation of the French mobility orientation law (Loi d'Orientation des Mobilités, LOM), French transport minister Elisabeth Borne and Mounir Mahjoubi, secretary of state for digital, hosted the government's first Strategic Committee on Data and MaaS (Mobility as a Service).
The draft LOM was submitted to the Council of Ministers in November 2018. Its proposed measures include the terms and conditions for opening up transport data. To "ensure open data really does happen and really does lead to services for citizens by 2021," Ms Borne set up the Strategic Committee as a joint initiative bringing together associations of elected officials, representatives of mobility service providers (public transport, carsharing, ridesharing…), data users, and other concerned parties.
Going forward, this watchdog-cum-work group will be focusing on what it considers key areas. These include standardising data, boosting data collection on accessibility to improve the lives of disabled people, and combining information and ticketing to deliver MaaS.  "Be bold, go create!" urged Ms Borne. "Together we are stronger."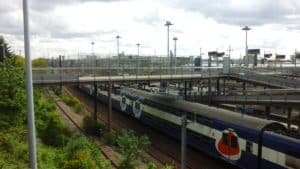 According to the LOM, static (stops, timetables, fares, accessibility for people with disabilities) and real-time (timetables, disruptions, availability of bikesharing…) data will be made available to all, in standardised formats, in two phases:
by end-2019 for major cities and trans-European routes
by 2021 across the whole of France
Also during Autonomy 2018, Ms Borne took to the stage to present the bigger picture, i.e. her ministry's plans for tomorrow's mobility across the whole of France. She insisted on the importance of innovation to help provide "mobility for all; mobility that restores territorial cohesion and provides access to vital services and employment; mobility that takes on board environmental and climate concerns." Sharing, self-driving vehicles, and connectivity all form part of the plan.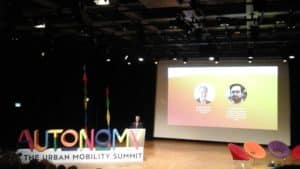 The government's role in tomorrow's mobility is "as a facilitator, a catalyser," said Ms Borne, who is counting on her French Mobility initiative to boost the transport sector in the right direction. Launched in June 2018, French Mobility is an open community based on co-creation designed to "support project developers, to steer them towards the right people and help them to overcome possible legal obstacles."
An example of this 'facilitation' is the call for experimentation, issued by French Mobility, to pave the way for introducing legislative or regulatory derogations.
"A classic case of this derogation of course concerns self-driving vehicles, for which we have already established a structured framework that will be further developed," said Ms Borne. "But it may also involve simplifying certain administrative regulations that could hinder innovation, such as certain rules on public procurement that we are keen to relax."
The government is also keen to support projects likely to bring new and sustainable mobility services to all the French regions. In response to the call for interest in French Mobility-Territoires, for instance, 26 projects have already been selected. They cover areas ranging from first/last mile logistics and rolling out active and shared mobility, to supporting intermodality in rural areas and introducing services for specific users (apprentices, home-work, people getting back into work…).
"I wish to make it clear: innovation must not be the privilege of large urban agglomerations: it is a response to the needs of many suburban and rural territories" –Elisabeth Borne
Once these French Mobility-Territoires projects have been identified, the next challenge is industrialisation / scaling up. A challenge, according to Ms Borne, that concerns the French regions "who must ensure all innovation benefits as many people as possible", businesses in general – "how to build leaders in these new markets" – and money matters, too – reducing the cost of solutions.
"As a collaborative platform, French Mobility should allow every territory and every actor to benefit from the feedback of others and draw upon proven solutions that have proved their worth."
Also a priority, a "core issue", for the French transport ministry is putting innovation into public procurement, "which mustn't miss out on the impending revolution." Another is establishing a suitable legal framework, clarifying the rules, for all types of new mobility – so as to safeguard their development while controlling their impacts. "This framework must be conducive to innovation and the consolidation of new business models."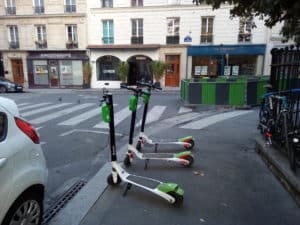 Words into action
Proof of Ms Borne's determination to keep new mobility under control came just days after Autonomy. Speaking at the Assemblée nationale on October 23, she announced that scooters are definitely to be banned from the pavements and relegated to cycle lanes.
Come 2019, use of these increasingly popular electric two-wheelers will be governed by legislation; a new vehicle category will be added to the French highway code.