'Made in Africa' innovation
no comments
Categories:
Tags:
'Made in Africa' innovation
By Joëlle Touré – 21 June 2018 
Just back from North America and I am transported to Africa, albeit just for one hour, during a masterclass on innovation at FUTUR.E.S. A fascinating conference by Stephan-Eloïse Gras and Francesca Giovannini from L'Oreille Global Innovation Lab.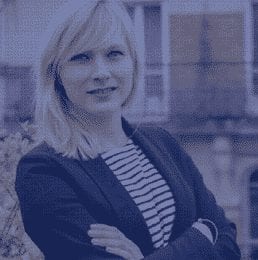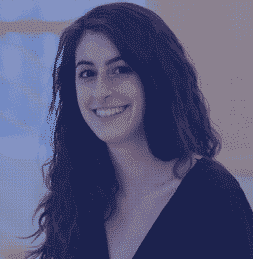 Left to right: Stephan-Eloïse Gras and Francesca Giovannini
"The innovation model in Africa is and remains extremely horizontal: South-South with local specifics," said founder and CEO Stephan-Eloïse Gras. Africa comprises 54 countries and thus just as many realities.
Nevertheless, several striking features characterise the continent as a whole. Firstly, very strong demographic pressure – 23% of the global population will be African by 2050 – together with exponential growth in connectivity far greater than that experienced in Asia.
Yet Ms Gras pointed out how "the development model in Africa won't follow that of the West," and put forward three reasons for this thinking:
Access to energy in Africa is set in a context where oil is no longer cheap
60% of Africa's population is rural; consequently connectivity is more complex and involves more levels: countryside, village, town and city
The digital revolution is a powerful development force. Digital industries are already contributing significantly to the GDP. Connectivity (mobile and internet) thus represents a critical and overarching issue for all the 54 African countries
Other factors also worth mentioning are the strength of youth on the continent – 40% of African are under 15 – and the strength of the informal sector, which accounts for 80% of the economy!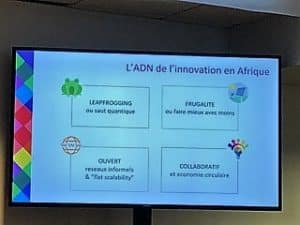 Four key features highlighted by Ms Gras and Ms Gionvannini sketch what could be described as an 'African innovation model':
– leapfrogging, the well-known phenomenon of directly adopting the most advanced innovation and thus bypassing technology steps or intermediary services. The success of the mobile payment service M-Pesa is certainly one of the most impressive examples: the world's first mobile payment service, launched in Kenya in 2007, where just 17% of the population had bank accounts but 54% a cell phone. Today, M-Pesa is used by 70% of adult Kenyans and has rolled out in other East African countries;
– frugality, when limited resources drive innovation. Indeed constraints are known to boost creativity. The speakers pointed out that the stakes at play are also higher. While in the West people are wondering how to get fridges to generate their own shopping lists, in developing countries the burning question is how to have a fridge without electricity;
– circularity, at both human and materials levels. In Africa, innovation depends more on communities and is often collaborative. On financial aspects, for instance, the age-old tontine practice on the African continent is a precursor of crowdfunding. In the same vein, distributing a product need to be thought out in terms of its adoption by a network instead of by an isolated individual. Likewise at the materials level, recyclability thinking prevails, first through necessity then with sustainable development in mind. Here the Agbogbloshie Makerspace Platform (AMP) collective action project in Ghana, which works out of a scrapyard, is an interesting example;
– openness, with a different relationship to intellectual property. The conditions for creating innovation are often open source. Firstly because the resources are lacking and it is necessary to use those available via open access, but also, utimately, because this approach has become the innovation culture of the African continent.
For instance, products or services are used by separating out their different attributes. Each attribute is then channelled by a community, which develops it according to the needs in question. Ushahidi, for instance (which translates to 'testimony' in Swahili), was developed as a crowdsourcing platform to map reports of violence in Kenya after the post-election violence in 2008. It has since evolved into a platform for editing open source software.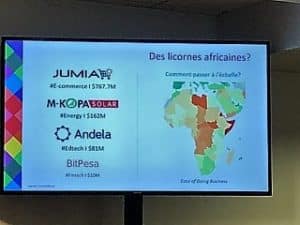 In this context, and despite the unfortunate lack of unicorns among African start-ups, several success stories are contributing to the buzz on the continent: M-Kopa in the energy sector, combining pay-per-use with mobile payment; Jamii Africa, which offers micro-health insurance in Tanzania; BitPesa for money transfers;  Jumia for e-commerce; Bifasor, an aggregator for informal logistics solutions…
The big challenge for entrepreneurs in Africa is finding funding, especially when embarking on their project.
They also struggle to find long-term support. Scaling up (outside one's home country borders) consequently proves a major feat, especially since the regulatory issue can become a quagmire due to the lack of easy access to knowlege of  civil codes, depending on the countries.
The biggest development challenge for a successful business venture is, without any doubt, education. 
Indeed only 2% of the population go to university. These students prefer to study in Western countries, which runs the risk they won't return home to play a part in developing the African continent. Some countries, like Morocco, Senegal, Kenya, and South Africa, are setting up quality university hubs to tackle this 'brain drain'. Like in the rest of the world, coding schools are also emerging – Andela in Nigeria and Moringa in Kenya, for instance.
So much more too explore, but the conference was over. Clearly there is potential here for Futura-Mobility's next field trip: the African continent seems ideal territory to me…