Business model disruption – part 1
Business model disruption – part 1
20 April 2018: the theme of this Futura-Mobility meeting was 'business model disruption in the mobility industry'.
Participants: SNCF Réseau, Safran, Airbus, Keolis, Bouygues, Alstom, Car Studio, Groupe Mobivia, NAWA Technologies, and ALD Automotive.
*****
Pierre-Etienne FRANC, vice-president, Hydrogen Energy World business unit, Air Liquide, opened the debate by referring to his latest publication (in French) Entreprise & bien commun (Editions du Palio, November 2017).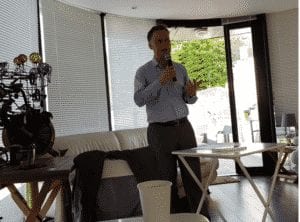 Our changing world…
According to Mr Franc, "the finitude of resources is such that if we carry on using the current productive model we're heading for disaster. This means that businesses are going to face all-encompassing paradigm shifts."
A second factor, "the extreme incapacity of governments to manage and control the economy (…). There's no longer any certainty in regulations applied to companies."
And a third factor, "the power of the digital revolution (…) means we're in a world that isn't transparent but working towards becoming so."
"Companies can no longer afford to drive forward a technical solution without a clear conscience of its consequences on the environment and the common good," added Mr Franc with a warning. "Otherwise, don't be surprised by the torrent of criticism you are sure to receive on social media, by the authorities, or your competitors.
… shifting positions
For groups like Air Liquide, which have typically maintained confidential relations on a B2B level, "changes today are upending our presence in the world and society."
On topics such as the energy transition, "you have to accept to join the political and technical debate if you want to advance your solutions." With regards hydrogen, for example, the main issues at stake are safety, producing decarbonated hydrogen, competitiveness, and performance compared to batteries. "If we want to be credible, it's vital Air Liquide adopts a 'clear, transparent and fair' position; a position we can justify," said Mr Franc.
"Furthermore, strong commitments speak just as loud as strong speeches. Air Liquide, for instance, is aiming at 50% decarboned hydrogen for tomorrow for mobility applications."
A change in leadership is another must: today, companies should be seriously considering open leadership as well as "constantly interacting with other entities around them", rather than focusing solely on their own operational performance.
Political struggle
Given the amount of uncertainty over all these technologies, a political struggle is guaranteed!
"I believe that in today's uncertain world, only the companies with convictions, and as a consequence, fortitude and a strategy beyond that of just financial concerns, only these companies are going to survive tomorrow and overtake the others," summed up Mr Franc. "Because they are driven by a strength more powerful than financial performance alone."
*****
Yann Marteil, managing director, Mobivia, continued the debate together with Florence Sanson, director general, Car Studio, by presenting the types of disruption ongoing and anticipated within Groupe Mobivia.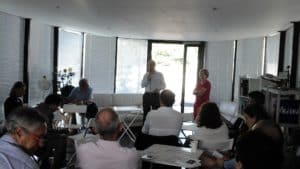 The major changes underway are well known: electric cars require "50% less maintenance than their combustion counterparts"; shared mobility is changing the profile of the Mobivia group customer base – "our clients are increasingly becoming fleets of vehicles," said Mr Marteil.
Last but not least, over the past decade the number of young people taking their driving test has drastically decreased, "especially in cities."
As a result the operational context for Mobivia, which traditionally specialises in maintenance and parts for multi-brand vehicles, is changing; as are the jobs in its profession.
"The boss at Ford [Graeme Whickman, president and CEO of Ford Australia] said [April 2017]: "we are no longer purely an automotive manufacturer; we are a mobility operator". And Ford has bought Chariot, which runs shuttles, city buses and bikes," points out Mr Marteil.
Given these observations and their implications, it makes sense change is in the air at Mobivia !

Via ID is very much part of this transformation drive. Created in 2009, this start-up accelerator is dedicated to new mobility – "since after all, clients come to us because they need to get about – so we are going to address them from a different angle and work towards creating new assets in new mobility," explained Mr Marteil.
"We are only interested in start-ups involved in everyday mobility that is both innovative and sustainable; and only those outfits that tick all three boxes. We have created companies and are investing in start-ups doing car, ride, and bike sharing, the connected car, and so forth."
Today, Via ID has 20 startups under its wing, such as Swiftly, Heetch, Drivy and Go-Jek.
"We help them to scale up, to grow rapidly." As a shareholder, Via ID provides expertise (legal, financial,, human resources) as well as convincing other investors to come on board: "because at Mobivia we believe we are too small to act alone," explained Mr Marteil. This strategy represents a major change for the group, which as a family concern has, up until now, always built up its business alone!
With offices in Paris, San Francisco, Berlin and Singapore, Mobivia is providing start-ups with a global vision: "these cities are among the most avanced and pioneering in terms of new mobility. We are also doing monitoring and working on investments."
In France, Mr Marteil observes growing awareness among public authorities that changes in mobility need legislative support. But, "we need to think European; if not we'll be crushed because we don't have sufficient scale." With this prospect in mind, the task of Mobivia's managing director is to scale up start-ups in the face of global competition with huge financial muscle.
Car Studio – making changes in-house 
As an in-house lab at Mobivia, Car Studio is an open innovation structure designed to fast track innovative solutions for Norauto, Midas, and Carter-Cash. With vehicle maintenance (a sector undergoing major changes today) at their core, these brands are the core business of the group.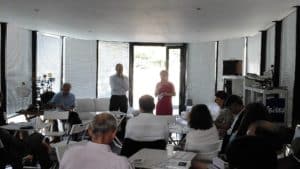 In addition to Via ID, Car Studio is playing a part in the deep-seated culture changes ongoing at Mobivia via four hubs of activity:
– also investing in start-ups. "Boosting a start-up has absolutely nothing to do with the cash it is generating. It's a new approach for Mobivia and a major culture change for the group," said Ms Sanson;
– incubating and mingling internal and external projects. For instance, one is focusing on inclusive mobility and how to make maintenance services accessible to the most vulnerable members of society;
– R&D to develop group's business model and industrial tool, the garage/repair shop;
– business partnerships: creating new innovative services with start-ups, like with WeProove – geolocalised and certified inspection reporting to guarantee transparency for clients – or Allo Joe – for house calls by mechanics.
"Furthermore, all the courtesy cars we lend customers when working on their own are electric; which is helping bring this mode of transport into the mainstream," added Ms Sanson. "And in the area of road safety we have invested in Cosmo Connected, a leader in state-of-the-art motorbike and bicycle helmets.
It's not a question of knowing when changes will come, but how to be 15 minutes ahead of the game to effectively transform our core business," she concluded.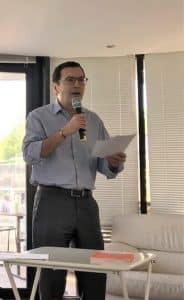 Click here for the presentation by Jean-Pierre Farandou, president, Keolis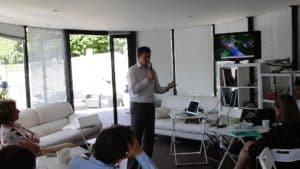 Click here for the presentation by Pascal Boulanger, president-founder of NAWA Technologies