Paris RER A – mission track and ballast
one comment
Categories:
Tags:
Paris RER A – mission track and ballast
Now summer's here, most Parisians are elsewhere.
Taking advantage of this annual exodus, a 24/7 operation is underway to upgrade a section of RER A – Europe's busiest commuter rail line.
Vital for keeping the city on the economic go, the 108km-long RER A runs from east to west with 46 stations along the way.
Operated mainly by RATP, the red line carries around 308 million passengers a year (an increase of 20% over the past decade), with 50,000/hour on the central section (Châtelet-Les Halles to the west) at morning peaks.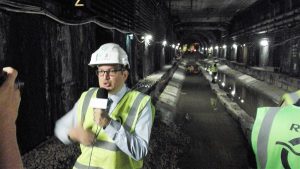 Between 29 July and 27 August,  services have been interrupted along a 3.7km-long stretch of the line between La Défense and Nation, under the heart of the city.
Here a 400-strong team is on the job 24/7 to replace track and ballast, plus four switches. The operation is baptised RVB – Renouvellement des Voies et du Ballast.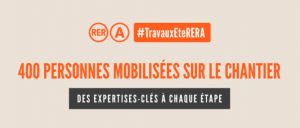 On average, 720 new sleepers are being laid every day plus 45,000 square metres of ballast (up to 80cm deep) over the four-week period.
Says RATP: 70% of the old ballast is being sorted and reused; 90% of the rails will find a second life on other work sites. Water from the construction is treated to avoid polluting groundwater.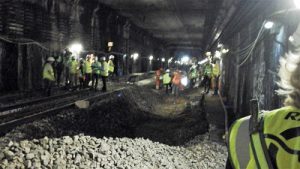 In service for over 40 years, RER A needs upgrading to ensure its continued safety and reliability.
The decision to completely shut down services was in part guided by the fact ridership over the summer drops by about 30%; in part driven by the desire to speed up progress – keeping passenger trains running would extend the duration of works from 7 to 10 years, with regular disruptions throughout.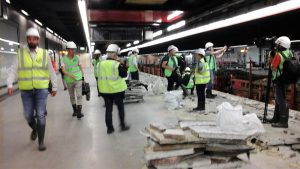 The RVB is part of a major modernisation programme for RER A that began two years ago. It schedules partial closure of staggered parts of the line for one month every year for the 2015-2018 period.
From 2019 to 2021 works will continue over the summer, but with closures in the evenings and at weekends. By 2024, if all goes according to plan, 24km of new ballast and tracks plus 24 switches should be in place. Investment over these seven years amounts to over €100 million.
Works over the summer of 2015 were a stepping stone for us to put our organisation to the test and even better prepare for the years to come, said Vincent Le Bihan, RVB project head at RATP.
Henceforth, we must start taking action for what is to come, the challenges ahead of us. Carrying out the renewal programme at night and over the weekends imposes new organisational constraints – especially with regards shutting down then starting up operations on a daily basis.
Since February 2017, all the rolling stock (183 trains) serving RER A has been replaced with new M109 double deck units (by the Alstom-Bombardier consortium) – boosting the line capacity by 30% (compared to 2011).
Automatic train operation (ATO) is also being deployed on the central section to improve robustness and regularity at travel peaks.
Enregistrer
Enregistrer
Enregistrer
Enregistrer
Enregistrer
Articles similaires: