Safeguarding environmental hygiene in transport
no comments
Categories:
Tags:
Safeguarding environmental hygiene in transport
On Friday 28 May 2021, Futura-Mobility organised a session – remote – on safeguarding environmental hygiene for transport passengers. As Jean-Pierre Lyonnet, technical reference for cleaning products at SNCF, notes, "when the virus appeared, people were all of a sudden aware of having cleaner means of transport!" For the sector today, the challenge also involves reassuring passengers so they will go back to using public transport.
During this session, mobility industry players exchanged views with the participation of experts from Airbus, Air France, Valeo, Bouygues, Keolis, and SNCF. Several lessons and avenues of work were shared.
Firstly, everyone present agrees that for Covid-19 it's not surfaces that are the most contaminating but the air breathed. Especially since clean hands and limiting contact with surfaces are part of the barrier gestures being widely applied.
Renewing air in a vertical flow for a healthy passenger compartment
As a result, Valeo, like Airbus with Air France, brings to the fore renewing the air inside vehicles. In planes, the rare cases of contamination detected, whether coronavirus, types of flu or even tuberculosis (via bacteria) occurred in situations where the ventilation system had failed for a long period of time during a stopover. "Air in a plane is extremely dry… and it's important to point this out because hygrometry also plays a role in spreading bacterial and viral diseases," explains Vincent Feuillie, Air France medical advisor. So, dry air creates an especially hostile environment for microbes which in turn means spread among passengers is extremely low. In a plane, the cabin air is renewed very often – around 50% of the air is recycled and 50% comes directly from outside. This air circulation flows from above to below, not from front to back. "Consequently, any droplets of saliva are directed downwards and not towards passengers in neighbouring seats," points out Dr Feuillie.
For buses it's the same priority. Pascale Herman, director for research, innovation and product marketing, Valeo Thermal System, explains how "for energy reasons [heating and air conditioning on board], we can't use air from the outside 100% – we need a certain recirculation rate – and in this case the air must be treated to avoid contamination. In a car, a little, in a bus, a lot!" Hence, using good quality filters is the norm today, whatever the vehicle – plane, bus, tram, or car.
Valeo is considering adding extra modules, "especially for taxis where people are getting in and out all day long, and to avoid contamination between passengers or the driver and passengers," shares Ms Herman. Especially for buses, "what has changed [with the Covid-19 crisis]  is that we have added UV modules on the ceilings. This means the air is sucked upwards, immediately purified and injected into the air conditioning system. We have already fitted out 2,000 buses in Brazil, the US and Germany. We are currently in talks with France over this concept."
Asia is home to a great many innovations. Bouygues Asia has selected some, which Vincent Maret, open innovation director, Bouygues Group, presented during this session. They tackle better air circulation or ozone- or UV-based treatments like at Valeo. They are notably based on robotics and artificial intelligence (AI).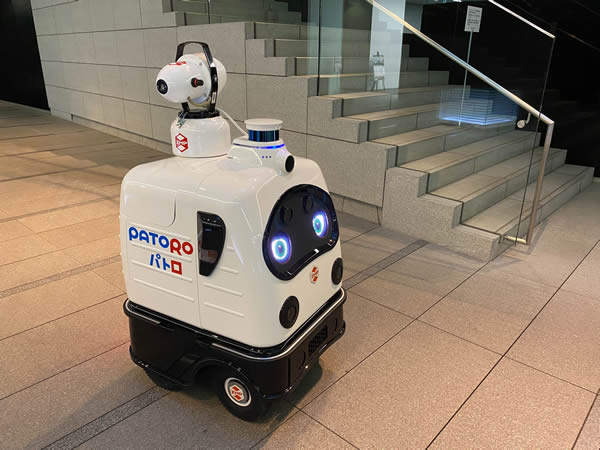 On this topic, Catherine Thibaud, Ph.D., cabin air quality function owner & expert, Airbus, warns about the (fake) promises of new systems that claim to be extremely efficient against Covid-19. She insists on the importance of checking new air purification systems don't use products harmful to people. "At Airbus, we are extremely vigilant on this point, to ensure the systems introduced don't generate elements that might prove more harmful than what are tackling!" For this reason, everyone agrees that ozone is not a good solution.
No miracle solution for cleaning and disinfecting surfaces
When it comes to surfaces, the challenge is first and foremost to avoid contamination from surfaces that are frequently touched and to reassure passengers.
In Japan, Indonesia, and China, it's not unusual to see robots cleaning and disinfecting. In France, everyone agrees, after carrying out much research and testing, that good old 'wiping with soap' is still the most effective solution! The toxicology of cleaning products for passengers, as well as their impact on the equipment to ensure they retain their properties (fire resistance, mechanical properties…), also need to be taken into account.
That said, cleaning takes place more often and more areas are being cleaned – as confirms Jean-Pierre Lyonnet from SNCF: "The disinfecting rate has been stepped up. It is now done on a daily basis, in line with government requirements." The same story for Keolis, where Arnaud Julien, innovation, data & digital director, explains how "we are focusing on systematically disinfecting surfaces, very often."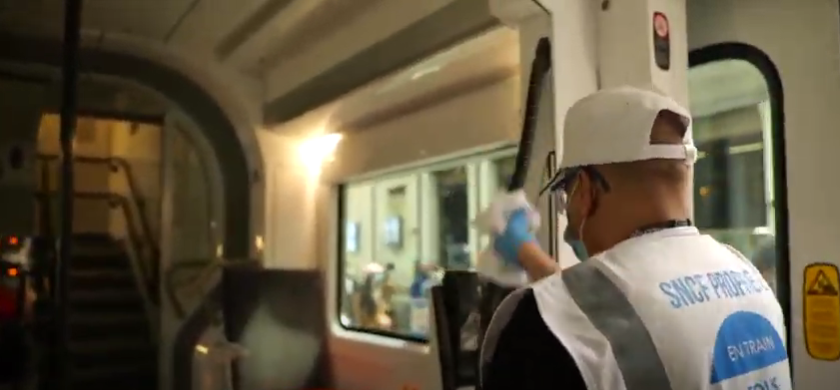 Continuing research work
Innovation in this field certainly isn't lacking. In France, the company Trajet-Aunde has been manufacturing self-cleaning textiles for four years now, so well before Covid-19 came into our daily lives! Thanks to an American technology based on photocatalysis, a solution of water and mineral ores, impregnated into the fabrics, disinfects them by interacting with natural or artificial UV rays.
The solution is directed integrated into velvets for public transport and works well for around two years. It can then be sprayed inside the vehicles to treat them again or to treat other fabrics. To function, this technology depends on extremely low UV ray lights being fitted.
The Franco-Spanish company is continuing its research to develop a technology that doesn't depend on UV, which, for instance, most LEDs currently in use don't have.
Here's hoping all this research and many actions will restore traveller confidence to return to public transport.
Cover photo: Pixabay – Helena Jankovičová Kováčová