The attention economy and mobility – part 2: real use cases
no comments
Categories:
Tags:
The attention economy and mobility – part 2: real use cases
Paris, 15 November 2019: during this Futura-Mobility meeting on 'the attention economy and mobility', several guest speakers presented and discussed use cases and business models with regards their particular activity. From among them, the think tank welcomed:
Alexandra Lafay, deputy director, communications, CSR & public affairs, Mediatransports. This billboard agency, which sells advertising in RATP and SNCF stations, as well as other transport spaces, is facing the question of "how to manage attention".
Julien Sivan, founder and CEO, SKYdeals. This French start-up aims to reinvent the travel retail market through in-flight connectivity. Its 'in-flight shoppertainment' platform opened with Air France since mid-January 2019. It is also available on Paris-New York flights with La Compagnie, and is launching soon with Lufthansa…
Ali Erhouni, co-founder & COO, Firefly Media Senegal. Based in Senegal since 2016, this start-up is looking to use digital screens on board buses to build links between advertisers and riders.
Audiences – who, where, and how many?
"Given how mass media is changing today, with the drop in TV viewing figures – likewise for the radio – and the decline in sales of print media, we are seeing serious audience fragmentation."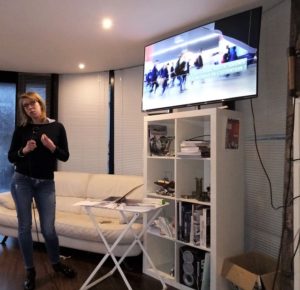 However, paradoxical though it may seem, Mediatransports is also seeing its audiences grow. "Because as an advertising agency specialising in transport, our audience is the number of people who travel by metro, train, who see the bus every day," explained Ms Lafay. "So obviously developing mobility is growing the advertising audience in this particular context."
Audience potential was one driving force behind Firefly Media's decision to launch in Africa, rather than anywhere else. On this continent, over 100 million people travel by bus every day. Some of them spend more than 35 hours a week in public transport, especially the bus.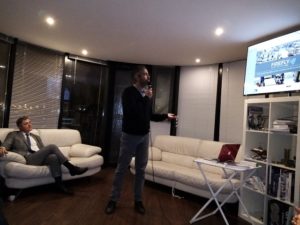 In Senegal, home to some 12 million inhabitants, every day two million people use Tata buses – the country's privately run network. "Everyone travels by bus because people don't necessarily have a car, there's no Uber or metro," explained Mr Erhouni.
"Another piece of context," he added, "the advertising marking in Africa is estimated at over 50 billion dollars. Annually, this market is growing by 8%, which is incredible compared to other markets that are much more mature, like Europe or the US."
What about the habitacle?
Ms Lafay also referred back to the habitacle, a topic raised earlier on in the meeting by Dominique Boullier (English coming soon). In her view, this habitacle is of significance today in the field of billboard advertising. "That feeling of being 'in a safe place' with advertising content really speaks to Mediatransports," she stressed. "People are becoming less and less tolerant of advertising intruding into content they have chosen."
Furthermore, in France today, the use of adblockers (software for blocking out advertising on websites visited) to thwart digital ads is experiencing significant growth. In 2019, over 30% of people in France used adblockers to protect themselves from what they consider an adverting invasion.
Creativity, entertainment, interaction – how to engage?
There is no one way of grabbing people's attention in transport. It's more a question of adapting approaches to contexts, to the public in question, to the duration of journeys, reasons for travelling, and so forth.
In the world of billboard advertising, creativity is the key to success. "Surveys and studies show that people are against intrusive and 'ugly' adverts, which are perceived as 'purely promotional'," said Ms Lafay. "Advertising seen as being funny or entertaining, or which rouse interest, is always better accepted."
The effectiveness of an advert –  and hence the amount of attention it captures – depends first and foremost on its creative appeal – as proven by the hugely popular, 1981 'Myriam' ad campaign, by the French Avenir group, or more recently by the eye-catching billboard (see below) in London, January 2020, designed by BBC Creative to promote the upcoming Dracula TV series.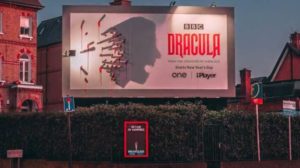 As for SKYdeals and Firefly Media, engaging their audiences depends on entertainment and the level of interaction established.
Indeed, SKYdeals came into being because its founder was convinced passengers need entertaining during flights and that in-flight shopping could appeal. "Shopping is a way of satisfying a primary need of the travelling public, which is to kill time," pointed out Mr Sivan. With this in mind, and taking advantage of emerging connectivity on board planes, SKYdeals offers continuous commercial entertainment linked to the travel experience (areas flown over, for example, are linked to specific offers). An approach that serves to grow sales.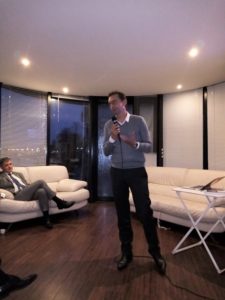 Firefly Media is also channelling this entertainment approach. Equipping buses with connected screens serves several purposes: on the one hand, to entertain passengers; on the other, to enable the start-up to capitalise on the people using the bus by getting to know them better, for the benefit of the bus operating company.
Since its launch in 2016, within just two to three months Firefly Media introduced Wi-Fi on board. Passengers can connect to this free service to use their journey time for everyday activities like on-line payments.
The next step for the start-up, in response to demand from its advertisers, is to introduce interactivity to this bus audience – "in order to get to know them even better and offer them services," pointed out Mr Erhouni.  Since the screens on board are not tactile and there is usually just one or two per bus, this interaction is based on the smartphone, WhatsApp, and text messaging. The bus display screen runs a survey, quiz, game or questionnaire with a number to call or text. This serves to engage passengers even more strongly in the experience and opportunity to win prizes. It's a win for Firefly Media, too, because all the data collected during this interaction serves to better qualify the audiences for its advertising customers. Furthermore, Firefly could even monetise this data, providing it to transport operators, for instance, "so they can better understand how their services are performing, the number of passengers, etc.," explained Mr Erhouni. A win-win for all?
What does the future hold?
To remain competitive, Mediatransports, Firefly Media and SKYdeals are also studying trends and exploring new horizons for grabbing the attention of bigger audiences.
Firefly Media is keen to see its screens establish a foothold across the whole of Senegal and "scale up" its business model in other countries in the region, like Côte d'Ivoire, Morocco or Ghana. Why these countries in particular? "Because, like in Senegal, they have private coach services and lots of people use the bus," explained Mr Erhouni. "Other key factors include the demographic explosion in Africa, which is set to become the second most populated continent in the world by 2050, and people moving to the cities, which will lead to greater use of public transport."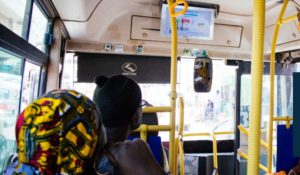 In the future, Mediatransports hopes to shift away from 'pure' advertising to channel other messages. "Right now, we, as well as other billboard ad agencies, are thinking about how to take steps towards more services," added Ms Lafay. Her agency has already made moves in this direction with campaigns for the French charities Secours Populaire and Les Restos du Cœur, for instance, whereby the public was encouraged to make directly below the billboards, using their contactless credit cards.
Mediatransports and RATP join forces to promote micro-donations
Mme Lafay believes this development in the billboard sector is, to a certain extent, playing a part in capturing attention – "because if people know they are getting more than just an ad, perhaps they are going to pay more attention."
Goodeed – users make donations by watching ads
As for SKYdeals, which plans to diversify its sales beyond the range of typical duty-free products… the sky's the limit! "Given there are a lot of men among the passengers we are reaching today, we're going to develop our offer with this target customer in mind," explained Mr Sivan.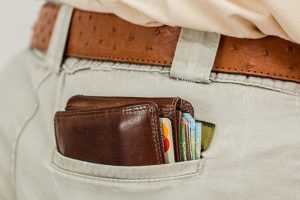 The attention economy is set to transform the mobility business model
Discover Conviction 7 by Futura-Mobility
Cover photo: Daisy-Mae by Laura Brown