Anne-Marie Idrac: autonomous vehicles – December 2019
Anne-Marie Idrac: autonomous vehicles – December 2019
Senior official in charge of the French development strategy for autonomous vehicles, Anne-Marie Idrac  shared her views on this 'new mobility' mode with Futura-Mobility members and their guests, end 2019, in Paris.
Futura-Mobility: What are autonomous vehicles and why are they generating so much interest?
Anne-Marie Idrac: You're right to talk about them in the plural: autonomous vehicles have and will have several levels of automation, for both goods and passengers. The collective psyche may dream of cars without any driver at all, circulating in all circumstances. Yet in actual fact, the first use cases with a high level of autonomy will be shared vehicles, along set routes, or within closed sites – especially for logistics.
For passengers, the autonomous vehicle is speeding up development of cars with regards electrification, connectivity, and sharing. The market appears to be heading towards fleets of shared vehicles. One such example in France, in addition to those of Keolis (!), is that run by Transdev in Rouen. Here, the operator is running autonomous Zoe cars and shuttles from various French suppliers (representing a national asset!), in conjunction with traditional public transport services.
Rouen, end-2018 > end-2021: Renault is providing 4 Zoe cars for an on-demand transport service, covering three routes, 12km, and with 17 stops, between Madrillet technopole and Saint Étienne du Rouvray. An i-Cristal shuttle is also being tested. (Source: Les expérimentations de véhicules autonomes, p.6 – Cerema, March 2019)
FM: What are the fields of innovation?
A-MI: The innovation is wide-ranging and cross-disciplinary.
For the vehicles and systems, it concerns technologies, first and foremost safety, but also design – with regards behavioural and societal aspects, as well as use cases.
One emerging innovation topic is that of fleet supervision and the intermodality of this supervision – to ensure the transport segments served by autonomous fleets are operated seamlessly with the rest of passengers' journeys. There is still the question over which players will perform these supervision tasks and overall fleet management.
This brings me to the question of business models: new services need to be devised, a middle course between individual cars and public transport, as well as new roles for transport organising authorities. Furthermore, the costs should decrease as deployments increase.
There's also a whole raft of legal innovation, especially in terms of responsibilities and data sharing. This is the subject of two Articles in the [French] Mobility Orientation Law (Loi d'Orientation des Mobilités, LOM).
Another topic, THE big question on everyone's mind, is – what does homologation of an autonomous vehicle mean? It's a real headache! We are trying to learn from aviation but the environments for land-based autonomous vehicles are far more complex, there are more surprises, more varied situations, different types of infrastructure along the routes, plus the presence of other users in the space. This point arises within an international framework, it is legal and technical, and practically existential. Unlike for traditional vehicles, homologation of the object by itself or of a system is not going to happen, but rather of an object/system, and this in relation to use case scenarios and testing.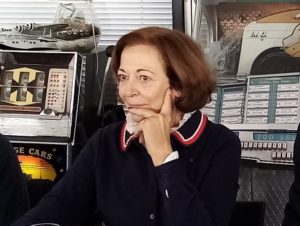 FM: Are autonomous vehicles going to pave the way for rolling out extra mobility services, especially in rural areas?
A-MI: Autonomous vehicles by themselves aren't going to solve structural issues arising due to a lack of density and resources among the local authorities in question. What they can do, no more, no less, is further facilitate sharing and potentially reduce operating costs for public transport. This explains Japan's mobility plans for its ageing isolated population [see Autonomous driving, 5G & EV charging in Japan]. Again, the LOM provides for new institutional tools so that all territories can take full advantage of innovations.
The expected additional services concern first and last mile trips, feeder traffic, off-peak travel times, on-demand journeys…
Nevertheless, there's no hiding the risk that driverless services – like many 'new mobility' tools – first develop in areas that already have good transport and are not lacking in resources. In any case, they will serve as extras to traditional services; it will all depend on how people, economic stakeholders, and public authorities use them; and on the regulations introduced at all levels – from international to local.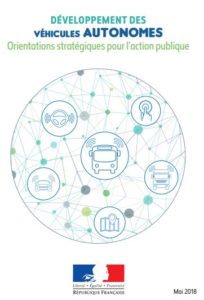 FM: How will autonomous vehicles impact employment?
A-MI: Over the short term, the main issue will be the availability of technical skills.  Longer term, questions will arise over driver jobs in the autonomous vehicle sector – in addition to those in existing transport services, which have growth potential.
When I launched the automation of Metro Line 1 in Paris (already in non-automatic service), RATP prepared everything well in advance: of course the work carried out by an automatic line supervisor doesn't require the same skills as those of a metro train driver; ditto for maintenance. At the same time, jobs involving support, information, and the quality of customer relations are increasingly important. So it's vital to think long and hard about the changes to all the services and jobs, and to adopt a gradual approach that includes engaging in dialogue with the workforce.
During test runs of autonomous shuttle buses by RATP, in Bois de Vincennes [west Paris] since 2017 [Les expérimentations de véhicules autonomes, p.26 – Cerema, March 2019], it became clear that the job of 'safety driver' on board autonomous vehicles is very different from that of a 'driver', 'controller', or even 'attendant'.
For goods transport, the shortage of truck drivers is creating huge appetite for certain types of automation.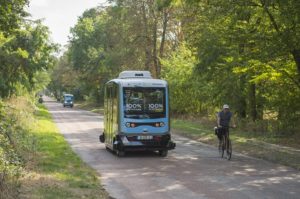 FM: What about people's views on autonomous mobility?
A-MI: Acceptability is an important pillar in our strategy, together with safety, security, and progressiveness.  Without acceptability, there won't be a market. In France today, fears seem to outweigh hopes: fears over safety in the vehicle; data security; resistance to giving up the freedom to drive, and the universality of this freedom; in the case of shared use, concerns over privacy, and once again, safety.
But there is some good news: firstly, people are becoming increasingly accustomed to advanced driver-assistance systems [ADAS] and this is paving the way for higher and higher levels of automation; secondly, the more pilots are carried out, the greater the acceptability; thirdly, there is greater acceptability of shared and collective uses, like shuttle buses, as well as of integrating autonomous vehicles into local mobility systems, with high expectations in terms of the environment and social inclusion.
FM: Do you think the development of autonomous vehicles is raising other issues?
A-MI: It's important not to ignore ethical questions; indeed, I'm getting all kinds of different stakeholders to explore them together. Communication topics also fall under this ethical umbrella: promises made must be honest.
Next, we need to delve deeper into the technical aspects of cartography and connectivity.
FM: Finally, what impact will autonomous vehicles have on mobility policies?
A-MI: Given the prospect of autonomous vehicles coming on stream, certain old questions are coming up again and becoming more pressing. For instance: autonomous or not, these vehicles won't solve congestion if they are used by one person only; the quality of physical road signage is key to enabling driverless traffic; or further still, physical spaces for car sharing and feeder services are needed.
The public-private work ongoing in France is giving rise to a new kind of transversality. Everyone at the table today [SNCF Réseau, Keolis, Be-Bound, Valeo, Groupe ADP, Schoolab, Air Liquide, Bouygues, Safran, Alstom] is involved in one way or another. But also half a dozen Ministries, the automotive industry, of course, as well as infrastructure professionals, digital stakeholders, insurers and, very importantly, local authorities… all types of professions that are not used to working together.
This reflects changes in attitudes and approaches. The auto industry tends to consider itself a mobility player, public transport operators no longer view the car as an enemy, stakeholders from other horizons are emerging, local authorities are being introduced to systemic and intermodal visions…. Behind all this, new value-sharing and socio-economic models are emerging, in a context of fierce global competition.
FM: What does the future hold?
A-MI: In France, like elsewhere, we're still in the test phase and the work priorities are safety and validating it. Many of the technological promises are not feasible. For instance, Level 5 autonomy in all weathers, all geographies, etc. will most likely never happen, or in the very, very distant future! The important thing is to work on use cases by integrating all the urban, social and environmental aspects…